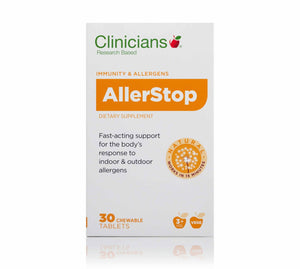 AllerStop™ is a proprietary natural formula that works rapidly to provide support for the body's response to indoor and outdoor allergens such as moulds, dust mites, pet dander, grasses and pollens.
Your received product may look different to the image shown here. 
Active Ingredients in Each Tablet:
Coturnix coturnix (Quail) egg powder 42mg (equivalent to NLT 2 mg of total quail egg protein)
Also contains: microcrystalline cellulose, sorbitol, magnesium sterate
No added: Gluten (or wheat), dairy, yeast, sugar, artificial colours, flavours, sweeteners or preservatives
Recommended Dose:
Adults: 2 tablets (chewed slowly) every two hours or as required. Best taken away from meals..
Children aged 3 years and over: 1 - 2 tablets (chewed slowly) after being exposed to an allergen. Repeat every 2 hours if necessary.
Note: it is recommended not to exceed 12 tablets a day.
Contraindications & Cautions
Exercise caution or avoid in people with known allergies to eggs.
Pregnancy & Breastfeeding: While no studies have been performed in pregnant and breastfeeding women, quail eggs are considered safe to eat during these times.
Side Effects: None known. Acute studies have shown Clinicians AllerStop is well tolerated.