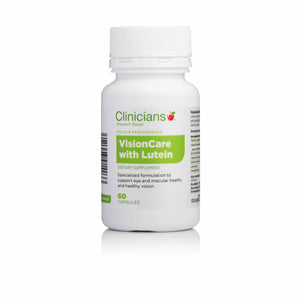 Clinicians VisionCare with Lutein is a scientifically validated synergistic antioxidant formula specifically designed to support eye and macular health and healthy vision. Containing Xangold® derived from marigold flowers which provide the antioxidants lutein and zeaxanthin to support the integrity of eye tissue.
Your received product may look different to the image shown here. 
Active Ingredients in each capsule:
Vitamin C (ascorbic acid) 250 mg
Vitamin E (as d-alpha-tocopherol) 33.5mg
Copper (from copper gluconate) 500mcg
Selenium (from L-selenomethionine) 20mcg
Zinc (from zinc amino acid chelate) 7.5mg
Lutein esters* 6mg
Zeaxanthin esters* 309mcg
* Contained in a base of Xangold ® 10%
Also contains: magnesium stearate, silicon dioxide and microcrystalline cellulose.
No added: gluten, dairy, yeast, sugar, artificial colours, sweeteners, flavours or preservatives.
Recommended Dosage:
Adult: Take 1 capsule twice daily with food.
Contraindications & Cautions
Clinicians VisionCare with Lutein contains copper, use is not recommended in copper storage conditions (Wilson's disease) therapy as copper supplementation can worsen the condition or interfere with penicillamine therapy.
Pregnancy and Breastfeeding: There is insufficient evidence on the use of the ingredients in Clinicians VisionCare with Lutein during pregnancy and breastfeeding, use under health professional supervision.