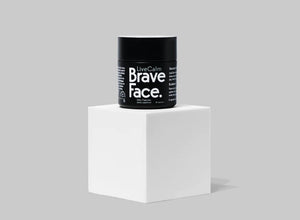 56 Capsules
LiveCalm daily capsules, are natural supplements for stress and anxiety that help you stay calm, whatever the day throws at you. 

If you feel like you have been living in fight or flight mode, or stressed for a long period of time, your nervous system may need support. 
LiveCalm might be the daily ritual you never knew you needed. Formulated with adaptogenic herbs Ashwagandha and Holy Basil plus rosemary, which help support your body's ability to cope with day-to-day stress. 
These herbs work in harmony with our central nervous system to bring it back into balance, restoring calmness and clarity.
If stress is a main protagonist in your life, LiveCalm daily stress supplements help you live big and keep your worries small
Supplemental Facts
Serving Size:

 
56 capsules
Servings per container:

 
Each vege soft gel capsule contains
Amount per serving
% Daily Value
Ashwaganda (Withania somnifera) root ext. equiv to dry root

1500 mg

**

Holy Basil (Ocimum tenuiflorum) leaf ext. equiv to dry leaves

600 mg

**

Rosemary (Rosmarinus officinalis) leaf ext. equiv to dry leaves

500 mg

**

** Daily value not established
| | |
| --- | --- |
| Also contains: | Extra virgin olive oil, mono and diglycerides, rapeseed lecithin, starch from maize, glycerol, carrageenan, sorbitol, plain caramel, disodium phosphate. |
| Directions: | Adults: Take 1 capsule in the morning and 1 at lunch time. |
| Warnings: | Consult a physician before use if you are taking any medication, have a medical condition, or are pregnant or nursing. Keep out of reach of children |
| Storage: | Store in a cool dry place below 25°C |
| Recycle: | Please recycle logo |
Instructions for use: 
Adults take 2 capsules daily