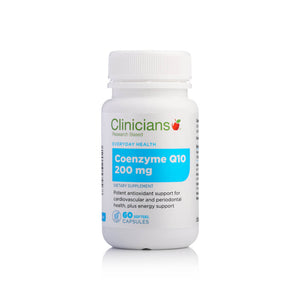 Clinicians Q10 (CoQ10) is an important antioxidant and co-factor in the production of cellular energy. Clinicians Coenzyme Q10 provides potent antioxidant support for healthy heart function, energy levels and oxygen to the cells.
Your received product may look different to the image shown here. 
Active Ingredients in each capsule:
Natural Coenzyme Q10 (Ubiquinone) 200 mg
Also contains: medium chain triglycerides,yellow beeswax
No added: gluten, dairy, yeast, sugar, artificial sweetners, flavours or preservatives.
Coenzyme Q10 (200mg) Recommended Dose:
Adult: 1 capsule daily or as directed
Contraindications & Cautions
Individuals taking blood-thinning medication such as Warfarin should use CoQ10 under health professional supervision.
Individuals on cholesterol lowering medications may require higher doses of Coenzyme Q10. For low dose therapy take CoQ10 50—100mg daily. For medium to high dose therapy take 100– 200mg CoQ10 daily or use 2mg Co Q10 per kg body weight as a general guideline.
Pregnancy & Breastfeeding: Coenzyme Q10 is regarded as safe to take as part of a multivitamin and mineral complex for pregnancy and breastfeeding.