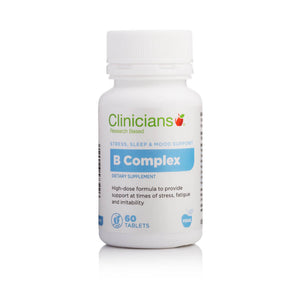 Clinicians B Complex provides a combination of essential B Vitamins in high potency. It is recommended where a deficiency is suspected or to support nervous system function and health. B group Vitamins are help support the nervous system in times of stress, exhaustion, fatigue, tension or nervousness.
Your received product may look different to the image shown here. 
Active Ingredients in each film coated tablet:
Thiamin hydrochloride (Vitamin B1 75mg) 84 mg
Riboflavin (Vitamin B2) 75 mg
Nicotinamide (Vitamin B3) 75 mg
Calcium pantothenate (Vitamin B5 50 mg) 55 mg
Pyridoxine hyrdrochloride (Vitamin B6 50 mg) 61 mg
Cyanocobalamin (Vitamin B12) 50 mcg
Ascorbic acid (Vitamin C) 100 mg
Folic Acid 300 mcg
Biotin 100 mcg
Choline bitartrate (Choline 75 mg) 182.5 mg
Inositol 75 mg
Also contains: Tabletting aids.
No added: gluten, dairy, yeast, sugar, artificial colours, sweeteners, flavours or preservatives.
Recommended Dose:
Adult: 1 tablet daily with food or as directed.
Contraindications & Cautions
B complex vitamins are considered safe and well tolerated, in all age groups including during pregnancy and breastfeeding.