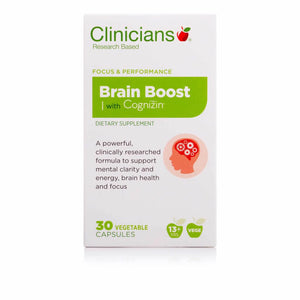 Clinicians Brain Boost with Cognizin is a powerful clinically researched formula that supports mental clarity and healthy brain function, mental energy and mental focus. 
Your received product may look different to the image shown here. 
Active Ingredients in each tablet:
Citicoline (Cognizin tm) 250 mg
Citcoline has been found to be highly bioavailable with nearly 100% absorption .
Also Contains: Microcrystalline cellulose, silica and magnesium stearate.
Contains no: gluten, dairy, yeast, , sugar, artificial colours, sweeteners, flavours or preservatives.
Well tolerated and suitable for vegans and vegetarians
Recommended Dosage:
Adults: Take 2 capsules daily for 8 weeks, then reduce to one capsule daily.
Contraindications & Cautions
None known. Can be used in conjunction with prescription medication.
Side effects: considered safe and well tolerated at the dose recommended.
Pregnancy and breastfeeding; Not recommended due to a lack of safety data.