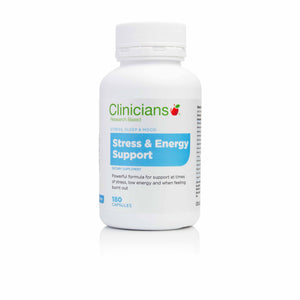 Clinicians Stress & Energy Support (formally known as Adrenal Stress Support) can be used in times of stress, low energy and fatigue to support adrenal gland function. Contains vitamins, minerals, botanical extracts and amino acids that work together to provide support for normal adrenal function for support in times of stress, low energy and recuperation.
Your received product may look different to the image shown here.
Active ingredients now showing per capsule
Vitamin B5 (from calcium pantothenate) 75 mg
Vitamin B6 (from pyridoxine hydrochloride) 25 mg
Vitamin C (ascorbic acid) 75 mg
Copper (from copper gluconate) 250 mcg
Magnesium (from magnesium aspartate complex) 25 mg
Potassium (from potassium citrate) 25 mg
L-Tryosine 50 mg
Zinc (from zinc methionine sulfate) 3.7 mg
Acanthopanax senticosus (Siberian ginseng) root ext. 25 mg
Centella asiatica (gotu kola) herb 6:1 ext. 25 mg
Glycyrrhiza glabra (licorice) root 50 mg
Rehmannia glutinosa (shu di huang) root 5:1 ext. 50 mg
Withania somnifera (Indian ginseng) root 62.5 mg
Zingiber officinale (ginger) root 25 mg
Also contains: magnesium stearate.
No added: gluten, dairy, yeast, sugar, artificial colours, sweeteners, flavours or preservatives.
Recommended Dose:
Adult: 1 to 2 capsules twice daily or as directed
TIP: Best taken before breakfast and/or lunch
Contraindications & Cautions
Long term use of Siberian Ginseng and Licorice Root may increase blood pressure in hypertensive people. Some people with elevated cortisol may find licorice Root too stimulating even in small amounts. They may present with anxiety or hyper activity. Monitor dosage closely for this group.
Note: Once the desired effect is achieved, maintain on half the recommended daily dose. Individuals who are sensitive to herbal extracts, may begin on a low dose and slowly work up to the maximum daily recommended dose.
Pregnancy & Breastfeeding: The herbal ingredients in this product have not been tested in pregnancy or breast feeding and therefore may not be considered safe to use during these times.