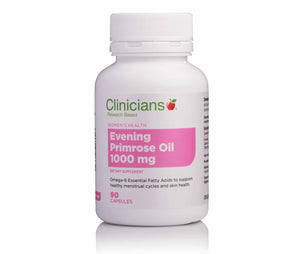 Clinicians Evening Primrose Oil 1000mg contains the omega-6 essential fatty acid (EFA), gamma linolenic acid (GLA). EFA deficiency can affect all organs in the body and is especially important for the health of the skin, the bronchial and circulatory system, hormonal balance, immune system balance and joint health.
Your received product may look different to the image shown here. 
Active Ingredients in each gelatin capsule:
Evening Primrose Oil 1000 mg
Providing: 
Gamma Linolenic acid (GLA) 100 mg
Other fatty acids (including linolenic acid and oleic acid) 900 mg
Vitamin E (as d-alpha tocopheryl) 1 mg
No added: gluten, dairy, yeast, sugar, artificial colours, sweeteners, flavours or preservatives.
Recommended Dose:
Adults: 1 to 2 capsules, 2 to 3 times daily. As a maintenance dose, take 1 capsule once or twice daily.
Contraindications & Cautions
Avoid using evening primrose oil in individuals with epilepsy as GLA is known to increase the incidence of seizures. Individuals with epilepsy may want to consider using Clinicians Krill Oil 500 or Omega-3 Fish Oil as a source of essential fatty acids.
Individuals on blood thinning medications such as warfarin should consult a health professional before taking evening primrose oil especially in high doses as it may affect blood clotting times.
Pregnancy & Breastfeeding – Clinicians Evening Primrose Oil is considered safe to use during these times.