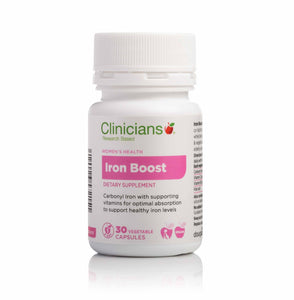 Clinicians Iron Boost provides a well absorbed, non constipating high dose form of iron with important co-factors to enhance iron absorption and utilization in the body. Iron is an important mineral with many functions in the body including the production of red blood cells. Iron deficiency is common in vegetarians, menstruating women, pregnancy, infants and the elderly.
Your received product may look different to the image shown here. 
Active Ingredients
Now in vege hard shell cap, making it suitable for vegetarians!
Carbonyl Iron (elemental iron 24mg) 24 mg
Folic Acid 300 mcg
Vitamin B12 (as cyanocobalamin) 50 mcg
Vitamin C (ascorbic acid) 50 mg
Also Contains: magnesium stearate, microcrystalline cellulose and silicon dioxide.
No added: gluten, dairy, yeast, sugar, artificial sweeteners, flavours or preservatives. Suitable for vegetarians and vegans.
Recommended Dose:
Adults: 1 Capsule daily with food.
Children: mix capsule contents with orange juice.
Note: Iron levels should always be tested before commencing iron supplementation.
Contraindications & Cautions
Individuals with haemochromatosis (a condition associated with excess iron storage) should consult a health professional regarding their iron status before considering iron supplementation.
Children should only use iron supplementation under the supervision of a health professional.
Pregnancy & Breastfeeding: Clinicians Iron Boost is considered safe and well tolerated and is suitable to restore and maintaining iron stores during these times. Dosing above the recommended one capsule daily should be done under health professional supervision.