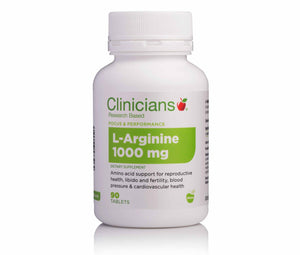 Clinicians L-arginine is an amino acid that has numerous health benefits. It is primarily used to support heart health, circulation and blood pressure. It can also be helpful for healthy sex drive in both men and women.
Your received product may look different to the image shown here. 
Active Ingredients in 1 Tablet:
L-Arginine hydrochloride (equiv. L-Arginine 827mg) 1000 mg
No added: gluten, dairy, yeast, sugar, artificial colours, sweeteners, flavours or preservatives.
Also Contains: Tabletting aids
Recommended Dose:
Adults: Take 1 tablet 1-3 times daily or as directed.
Contraindications & Cautions
Side Effects: Generally considered safe and well tolerated at the recommended dose.
High-dose arginine supplementation (12g per day), may lead to hypotension – supplement under the guidance of a health professional and monitor blood pressure levels.
Exercise caution in people diagnosed with schizophrenia or who display distinct characteristics of the disease as arginine may exacerbate psychiatric symptoms.
People who have suffered from congestive heart failure or who are taking prescription medication for a heart conditions should seek the advice of their physician before supplementing with Arginine.
Exercise caution in people with late stage liver disease as supplemental arginine may increase blood nitrogen urea levels.
Individuals with Herpes simplex should consult their health care provider before taking arginine as this amino acid may affect the proliferation of the Herpes simplex virus (HSV).
Pregnancy and Breastfeeding
Avoid during pregnancy and breastfeeding. Although generally considered safe, to date there is insufficient information to support its use during these times.