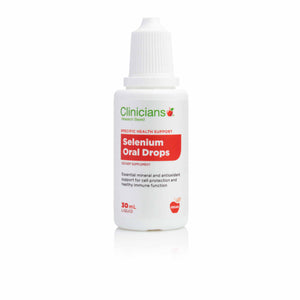 Selenium Oral Drops is a well absorbed liquid form of Selenium, offering mineral and antioxidant support specifically for the needs of New Zealanders as NZ soils are low in selenium content. Selenium is an essential antioxidant mineral that provides support for cell production and healthy immune function.
Your received product may look different to the image shown here. 
Active Ingredients in 1 drops
Selenium (from sodium selenate) 50 mcg
Also contains: purified water, citric acid, sodium citrate and potassium sorbate.
No added: gluten, dairy, yeast, sugar, artificial colours, sweeteners, flavours or preservatives.
Recommended Dose:
Adults: Take 3 drops daily.Do not exceed this dosage
Children (under 12 years): Recommended dose is 3mcg per kg body weight per day, but never to exceed 150mcg per day
Contraindications & Cautions
Selenium toxicity has only been reported for doses exceeding 1000mcg per day over extended periods of time. Do not exceed the recommended daily dose (150mcg) unless under supervision of a health professional.
Pregnancy & Breastfeeding: Clinicians Selenium Oral Drops is regarded as safe to take during these times under health professional supervision to ensure appropriate dosing.