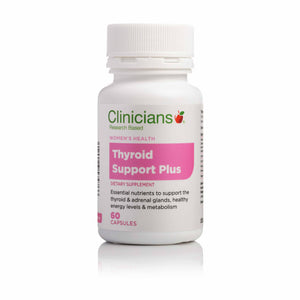 Clinicians Thyroid Support Plus is a research based synergistic blend of herbs, vitamins, minerals and amino acids to support thyroid hormone production, healthy metabolism and energy levels.
Your received product may look different to the image shown here. 
Active Ingredients in each gelatin capsule:
Withania somnifera (Indian Ginseng) 3750 mg
Standardised to NLT 2.25mg withanolides 2.5 mg
Vitamin A (from retinol acetate) 1500IU 4.6 mg
Vitamin B2 (riboflavin) 2.5 mg
Vitamin B3 (nicotinamide) 7.5 mg
Vitamin B12 (as methylcobalamin) 25 mcg
Vitamin C (ascorbic acid) 125 mg
Vitamin D (as cholecalciferol) 4.0 mg
Copper (from copper amino acid chelate) 1.8 mg
Iodine (potassium iodide) 98 mcg
Selenium (from selenomethionine) 10 mg
L-Tyrosine 250 mg
Zinc (from zinc amino acid chelate) 37.5 mg
Also contains: tapioca
No added: gluten, dairy, yeast, sugar, artificial colours, sweeteners, flavours or preservatives.
Recommended Dosage:
Adult: 1 capsule twice daily or as directed.
Contraindications & Cautions
Use Clinicians Thyroid Support Plus with caution in individuals taking warfarin as iodine may affect the blood's clotting ability and therefore may alter the affect of this medication. Consult your health professional before taking this product if you have hyperthyroidism or are on thyroid medication.
Pregnancy & Breastfeeding: This product contains vitamin A. If pregnant or planning to become pregnant, do not take vitamin A supplements without consulting with your health professional. There is insufficient evidence regarding the use of the ingredients in Clinicians Thyroid Support Plus during pregnancy and breast feeding, therefore it is not be considered safe to use during these times.