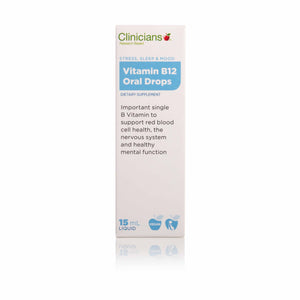 Clinicians Vitamin B12 Oral Drops provide a highly bioavailable form of Vitamin B12 for enhanced absorption and utilization in the body. Vitamin B12 is essential for mood and nervous system support, healthy mental function and red blood cell health.
Your received product may look different to the image shown here. 
Active Ingredients in 1 drop:
Vitamin B12 (Methycobalamin) 50 mcg
Also contains: purified water, citric acid, sodium citrate and potassium sorbate.
No added: gluten, dairy, yeast, sugar, artificial colours, sweeteners, flavours or preservatives.
Recommended Dose:
Adult: Place 1 drop under the tongue daily. As maintenance, take 1 drop 3 times weekly. For long-term use, use together with folic acid.
Contraindications & Cautions
Pregnancy and breast feeding: Clinicians Vitamin B12 Oral Drops is well tolerated and considered safe to use during these times, use under supervision of a health professional to ensure appropriate dosing.