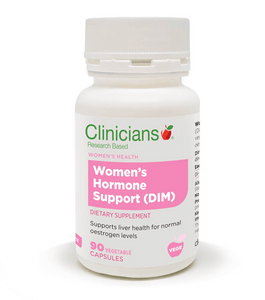 Nutrient support for liver health for normal oestrogen levels. Useful for:
Support for balanced oestrogen levels
For women to support breast comfort, fluid imbalances and normal menstrual flow
Supports during premenstrual and menstrual cycles
This is a unique formulation containing high levels of DIM (Di-indolylmethane), a substance found in cruciferous vegetables that supports healthy oestrogen metabolism. Easy-to-take capsules that are cost effective at 2 a day dosing. Suitable for long-term use.
Your received product may look different to the image shown here. 
Active Ingredients in each vegetable capsule:
Di-indolylmethane 100mg
Also contains:

 Calcium hydrogen phosphate, magnesium stearate and precipitated amorphous silica
Also contains: Tapioca powder.
No added: gluten, dairy, yeast, sugar, artificial colours, sweeteners, flavours or preservatives.
Recommended Dosage:
Adult: 1 capsule twice daily or as directed.
Contraindications & Cautions
May give urine a slightly pink tinge in some individuals.
Pregnancy & Breastfeeding: There have been no trials performed on the ingredients in Clinicians Women's Hormone Support during pregnancy or with breastfeeding, use is not recommended during this time.